Leiden Manchu Online
The Need for Digital Transcribed Text
The Asian Library in Leiden University holds a collection of 40 old books and manuscripts in Manchu. Most of these were described in Professor Hartmut Walravens' German catalogue of 35 Manchu books (published as "Mandjurische Bücher im Sinologisch Instituut, Leiden," in: Central Asiatic Journal, 30:3-4, 1986, pp. 275-284) and Koos Kuiper (Old Manchu and Mongolian Books and Manuscript, Introduction and catalogue, 2015). The collection also includes other items: four Imperial honorific decrees (Manchu and Chinese, dated 1761-1819), a description of the 1669's solar eclipse in three languages (Latin, Chinese, Manchu), etc.
Ten items from our collection have been digitised with the support of the International Manchu Project, initiated by Dr. Lars Laamann at SOAS that aims to digitise and map all Manchu collections outside China and Taiwan. The technology of this mapping is also part of the small grant 'Reuniting Manchu Texts on Maps - Designing the Proof of Concept'. Also, the project aims to have all digitised material transcribed, and to make it available through the Leiden based platform Manc.hu. This momentum, but also great initiatives such as the new online course by Devin Fitzgerald and new writings on the MSG website, has set me thinking.
As we all know, transcription can be a time consuming business. And, while we are all waiting for the perfect and open OCR (the First Historical Archives uses an internal system for Manchu OCR), we have no other options than to just use our own human power to get as many Manchu text online and searchable as possible. Early concordances included the important Manbun Rōto (Manchu Old Chronicles), made accessible by Brian Tawney through the, no longer accessible, Old Manchu Chronicle Project website. Other searchable Manchu transcriptions are scattered over the internet, including text on wiki's, on blogs such as the ones by Guillaume Lescuyer and Brian Tawney, articles in Saksaha etc. But we can, and should do better.
This has been, and will remain the raison d'être for Manc.hu. We want to collect as many transcriptions as possible, and keep on developing our concordance to best of our abilities to make the growing collection researchable. Being married to a Latinist and having access to CTEXT, I have seen the value of building and sustaining large text corpora. Sooner, not later, Manjurists should be able to search through a vast collection of text, in every thinkable genre. The digitisation is already in place, and even finished in some locations around the globe. So let us transcribe! It will make our work more effective, and more fun. In this whole story, Manc.hu can only do so much.
We can transcribe for you, and we will, but can you do the same for us? Over summer, we will transcribe our Leiden Digital collection, with pearls such as a 1703 Manchu translation of volume 20 Ling Mengchu 1628 Pai'an Jingqi (the library is fixing the indexation issue), or a box of the Dai Yuwan Suduri. What we will also do, is to get the Old Chronicles online again, since we know that many of you miss the source for your research. Our question to you: look at the transcriptions that you have made during your trips to the Archives. Do not let them sit in your computer. And, how about initiating transcription marathons. High on my wishlist is a transcription project of the qijuzhu, because we need those to properly understand the day to day business at court. or, how about the campaign records? Juul Eijk, who is now teaching Manchu in Leiden, has proven in his thesis how subtle and meaningful the differences are between the parallel editions of the Bodogon Bithe, and he will be sharing his transcription over summer. So, transcribe and share!
I often have asked myself the question about the reasons why we are not collectively investing our time in building a corpus together. Part of it will have to do with the fact that transcriptions does not help us build an academic resume. Secondly, I also know that some Manjurists have problems with seeing their transliteration to be added to Manc.hu because of our Daiqing transcription system. Maybe some of us are afraid that, as soon as they share their transcriptions, that therewith we are taking away our opportunity of discovering something game-changing in those very texts. The fact of the matter is that I do not know what is holding us back to share texts. What I do know is that it has to change, because by keeping transcriptions to ourselves we are holding ourselves back. Also, a friend of mine, Google Analytics, is telling me that Buleku.org is being used by many people across the globe, and while Buleku will go into a new phase of web development for all of us, I think it is only fair to ask something in return: your transcriptions.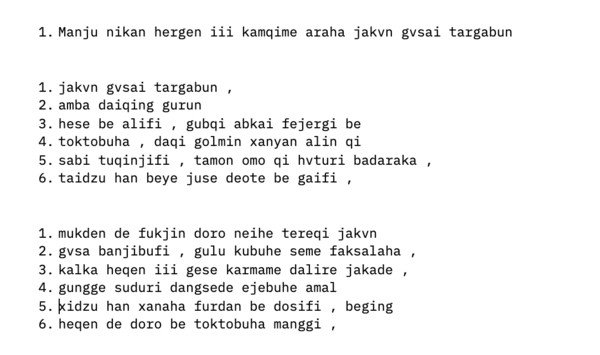 (Transciptions are best formatted like this. For the Möllendorffers out there, we can change it into Manc.hu conventions for you. Lines are formatted as a numbered list with a hard break to signal the page turns. The lines follow the order of the original)